Maria graduated from Rutgers University with a degree in Art History.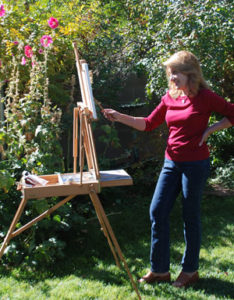 She studied applied arts at the Art Students' League of New York, and with master pastelist Albert Handell, artist Catherine Kinkade, and renowned drawing and anatomy instructor Michael Burban.
Since moving to New Mexico, she has enjoyed workshops in landscape and figure painting with Robert Kuester and Brian O'Connor.
Her paintings in oil and pastel are in private collections in New York, New Jersey and the northeastern United States, as well as New Mexico, Arizona, and the American Southwest.
Her professional affiliations include:
The Gallery ABQ.
American Impressionist Society
Portrait Society of America
Pastel Society of New Mexico
New Mexico Art League
Rio Grande Art Association
Maria C. Cole's Artist Statement:
My paintings begin long before I stand in front of the easel with a brush in my hand brought to consciousness by sources of inspiration such as nature and the beauty of everyday life.
I do not try to recreate those sources of inspiration; I convey the excitement I feel observing the endless variations of every one of their elements, moods and attitudes. Every interaction with the locale is a source of ideas; every experience a potential painting, there is beauty in the illusion of movement created by the play of light on shapes, in the smell of rain, the warmth of the sun, the introspection of a serene moment in a person's attitude.  This is the foundation at the core of my work.
My paintings are conceived, while hiking, riding the subway, listening to music and sometimes in places as down to earth as the grocery store. There are exciting possibilities everywhere we look as far as we can perceive with an open mind.
Some of the detail is left to the imagination in order that the viewer can feel the essence of a scene and experience the progression of my creative process.
Every environment tells a story; interpreting the beauty of that story is what moves me and ignites my creative spark.