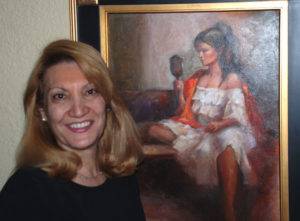 Maria welcomes students of all levels but finds particular enjoyment in guiding the artistic discovery of beginning adults in drawing and painting, and in assisting beginning and intermediate artists reach their personal next level.
As Maria describes it: "My teaching philosophy is to guide students towards finding their own voice and style by helping them acquire a solid background in traditional drawing, painting techniques and fundamental principles of design along with an understanding of composition, perspective and color.  All these elements along with demonstrations on the use of different available media give beginning students the confidence needed to experiment, develop and enjoy their creative journey."
Maria teaches eight-week classes in Beginning Drawing and Beginning Painting in both oils and pastels at the New Mexico Art League in Albuquerque, New Mexico.
For information on class schedules please visit the New Mexico Art League web site.